It's the general trout season opener this weekend. While many folks have been enjoying some fine fishing on the lower McKenzie everything else opens up Saturday morning!
The following is a list of fly patterns that have been effective this spring and will continue to fool fish throughout April and May.
The Purple Parachute has worked well during March Brown and Blue Winged Olive hatches. It's also been a solid searching pattern(good general dry fly) much like a parachute Adams.
The Glitter Soft Hackle has been deadly during cloudy and rainy conditions, imitating emerging mayflies and caddis flies. Fish this fly on the swing.
On warmer days Golden Stones have been present and fishing the Golden Rollin Stone alone or as a dry to hold up a dropper nymph is an excellent tactic.
The Foam Elk Hair Caddis is a solid performer from April through July. One of the best all around dry fly patterns to have in your box.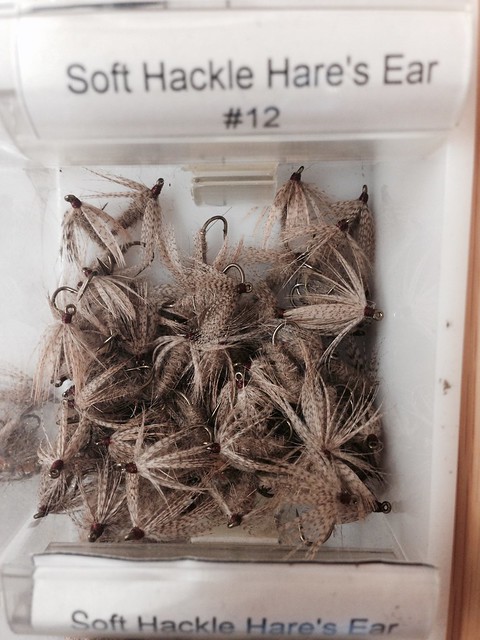 The Soft Hackle Hare's Ear is another solid down and across swing fly. Great for those cloudy and rainy days. This one can be fished behind a dry fly as well.
The Tungsten Trout Retriever will help you get down near the bottom in some of the faster runs on the McKenzie, Willamette and Deschutes. It will help drag down a smaller dropper nymph as well.
Swung, dead drift or just flopped out in the flow, the Mega Prince just works!
"Hall of Famer" Again swing it hang it under a dry, drag it etc.. The Possie Bugger catches fish on 6 of 7 continents.
Let's not forget a classic dry fly. The Parachute Adams in a variety of sizes needs to be in your fly box. With the incredibly low water we are having you might see Green Drakes in April. The Parachute Adams in various sizes will cover you.
The Green McKenzie Caddis emergence is developing and should blossom in next weeks heat.  Actively "jig" "twitch" "skitter" this pattern while on the swing and look for smashing takes.
The Jigged Prince has been deadly under a dry or with a larger Golden Stone nymph. It's quick decent and "hook point up" during the drift keep it close to the bottom but not hung up.
Our new favorite. A variation on the old faithful Hare's Ear. Fish it under a Green Caddis or Golden Stone pattern.
Another killer nymph to fish either with a larger bug off an indicator or under a dry.
Missing Link Caddis fishes well during caddis hatches and is a solid all around dry fly when you have picky fish rising anytime.
The Half Down Golden is a great Stonefly dry to hold up the nymphs I mention above. It's also a winner on the Deschutes during the Stonefly Hatch.
The Green McKenzie Caddis or locally know as the McKenzie Special is one of the best flies on the McKenzie and Willamette during the months of April and May.